Tuesday, 15. July 2014
Greetings To All
Hello Everyone,
I'm Isaac Komakech, 18 from Uganda, East Africa. I'm pleased to know about everyone who participates in this event and was overwhelmed to learn about the goodtimes you had. I love everything about this and I just wanted to say Hello! :)
... link (0 Kommentare) ... comment
Thursday, 10. August 2006
LIST OF ALL PARTICIPANTS
13 adults and 34 adolescents
(e-mail-)addresses and some phone numbers
ADULT PARTICIPANTS

1. Susanne Shaked, Hadassah Austria
0043 1 440 55 49
0043 650 821 48 96
hadassah-austriaATutanet.at

2. Evelyn Böhmer-Laufer
0043 1 315 19 10
0043 699 81 23 15 25 bohmerATutanet.at

3. Ronny Böhmer
0043 1 315 19 11
0043 676 93 88 169 ronaldoATutanet.at

4. Uri Amit
amituriAT012.net.il
009722 5661364

5. Nezar Tannous nt_gpiatATyahoo.com
00972 52 261 88 787

6. Szilvia Kneusel dukayneATfreemail.hu
00361 332 61 24

7. Hannibal Means hannibal_meansATyahoo.com
0043 1 650 680 40 35

8. Gabrielle Neuhaus gabneuAT012.net.il
00972 54 485 78 38

9. Gabriela Hütter
0043 1 587 70 47
0043 699 18 23 90 85 gabriela_huetterATragas.at

10. Ulrike Morocutti
0043 1 479 92 61
0043 664 48 36 468 ulrike-morocuttiATgmx.at

11. Prof. Josef Shaked
0043 1 440 55 49
shakedATutanet.at

12. Ulli Kropiunigg
tel.: 0043 1 512 19 10
ulrich.kropiuniggATmeduniwien.ac.at

13. Georg Geutebrueck
geutebrueckATg2film.com
tel.: 043 699 10 753 884

YOUNG PARTICIPANTS


AUSTRIAN PARTICIPANTS

1.Julia Romauch 0664 5130820 0676 5442116 juliaromauchATyahoo.de
2.Michael Klejna 0664 6131618 0699 10555147 klejnaATgmx.at
3.Veronica Lion 0664 4629121 0664 4127657 vronilionAThotmail.com
4.Miriam Kremshuber 0664 1343904 0664 5551366 miriam.kremshuberATaon.at
5.Philipp Pecnik pecnikphilippAThotmail.com
6.Tamara Liptay 0699 11824365 0664 9482029 tamara_liptayAThotmail.com
7.Cathrine Zaknun
8.Samira Schirpf-Means , 1090 Wien, Grünentorg 28, tel.: 0699 11969684, 01 925 91 10 samy_mausalAThotmail.com
9. Rafi Kropiunigg 1010 Wien, Franziskanerplatz 1.
tel.: 043 699 119 17 544
rafael.kropiuniggATgmail.com





HUNGARIAN PARTICIPANTS


1.Edina Mogyoróssi mariposaATfreemail.hu

2.Tímea Nagy timi1391ATfreemail.hu

3.Dénes Kleiner wowwATfreemail.hu

4.Emöke Rácz orlando_bloomATfreemail.hu

5.György Féder 2fast2furiousATeasymail.hu

6.Bálazs Rigó balazs.rigoATfreemail.hu

7.Leila Abdulwahid leilaawATfreemail.hu

8.Dániel Lónyai kainATvipmail.hu



PALESTINIAN PARTICIPANTS

1. Fareed srouji d.of barth 24/09/90 home add. stela maris st. 41 Haifa. Email: google.7AThotmail.com phone number: 0097248516421
2. Desiree barbara. d.of birth 28/11/89. home add. anelevitsh st. 51/9 Acre. Email:
new: deedoosh7889AThotmail.com
phone: 00972525982498.
3. Inas zaher .d.of birth 02/01/90 home add. ahaz st.8 Haifa. Email: lonly_without_ur_tochAThotmail.com
phone number 0097248558708. cellphone: 00972544295824
4. Jameel abu eid: d.of birth 30/06/91 home add. beet hanina- Jerusalem
Email: jameel_oAThotmail.com
gameel_oAThotmail.com
phone number 00972545951862.
5.Bilal Dissi: d.of birth 22/08/89 home add. beet hanina - Jerusalem Email : bablo89AThotmail.com phone number 00972546267188.
6. Inas Halabi
P.O. Box 51596, Jerusalem, Israel
inas_halabiAThotmail.com
7. Ninos Maria, gtcATp-ol.com
8. Boulus Jana
jboulusAThotmail.com



ISRAELI PARTICIPANTS


1. Mor Cohen
morchnATgmail.com
2. Or Ben-David
obd14ATwalla.co.il
3. Sahar Vardi
saharv6ATwalla.com
4. Segev Ben-David
segevbd2ATwalla.co.il
5. Ido Benbaji
idobenbajiATgmail.com
6. David Avitzour
davitzourATgmail.com
7. Yoav Granierer
crnmuuvATwalla.co.il
8. Harel Swisa
9. Raz Cohen
... link (0 Kommentare) ... comment
Saturday, 15. July 2006
Meet RAFI
from Vienna, Austria
who will join the peacecamp and do an online documentation about us
see his online-diary:
http://www.peacecamp2006.blogspot.com/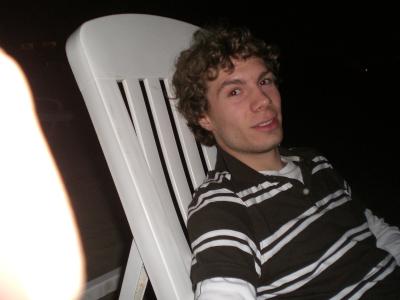 Über mich
Hello campers! I'm going to be joining you for a couple of days to help out with the research program. Currently I'm undertaking an internship at the 'Austrian Foundation for World Population & International Cooperation.' During my stay I'm going to do some stalking a.k.a. documenting the process of the camp - investigating relationships between groups and so on and so forth. Some of you'll be interviewed by me. I'm very keen on meeting you! I recently graduated from the Vienna International School. As I've read in some of your statements, a few of you survived the IB. I suppose we have something in common there. Now that I graduated I am fluctuating between two options; either staying in Vienna to study law or go to SOAS/King's College London to study Politics/Geo. The pic above portrays a typical winter's day in Austria - on the right hand side you can see me next to my friend Bob. That leads us straight to my hobbies. Most passionate about Snowboarding and Rugby's also one of my favourite, however my last game left me unconcious, so I think my rugby career is over for now. Traveling is another big priority of mine. That's all really. Enjoy this camp and see you there! Cheerio!
... link (0 Kommentare) ... comment
Wednesday, 12. July 2006
Meet Ronny Boehmer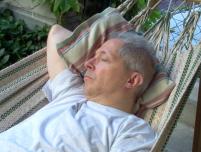 My name is Ronny Boehmer. On the photo you can see me in my favourite position. I was born in Argentina, quite a long time ago, but I live now in Vienna and am Evelyn's husband. At the peacecamp I will be responsible for everything and nothing at the same time. Anyway, I will be with you at the beginning and at the end only.
... link (0 Kommentare) ... comment
Meet Susanne (Susi) Shaked
Hadassah Austria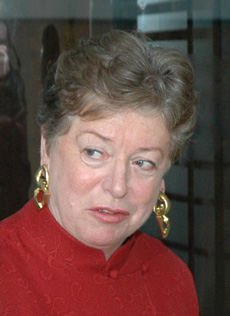 ... link (0 Kommentare) ... comment
Meet Professor Josef Shaked
who will conduct the
Analytic large groups on the peacecamp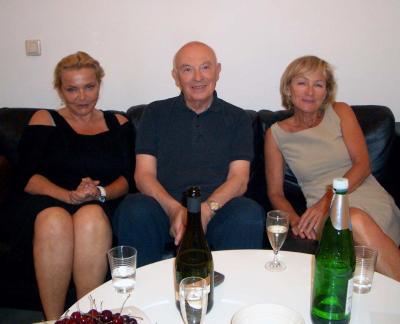 Professor Shaked, practicing and teaching psychoanalyst and group analyst has trained generations of younger colleagues in many countries of the world.
Multicultural and polyglott Professor Shaked is of hungarian origin and has been living and practicing in various countries and continents.
He will lead the analytic large group on the peacecamp.
... link (0 Kommentare) ... comment
Meet
PROF. ULLI KROPIUNIGG
who is conducting the
PEACECAMP RESEARCH-PROJECT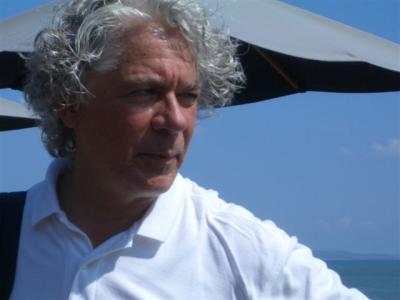 My name is Ulli Kropiunigg. I was born in close proximity of the previous camps, in southern Austria. Evelyn, Susi, Josef and all the other wonderful people from the peace camp invited me to look into the camp-dynamics from a scientific perspective. You might already have filled in some questionnaires and found that they are not as amusing as I think they should be. However, please think twice: having accurate results for our peace-study will enable us to understand and possibly find answers to these complex issues. Last year's results have shown that the camp can affect you positively, but it will still remain up to you to choose what you will take home and share with your community.
I work as a Professor for Psychology at Vienna's Medical University and as a Psychotherapist. Recently I published a book about psychological backgrounds of crying. Before this I worked and wrote about the connection between emotions and the immune system. Right now I am involved in studies in the Middle East about young people, their desires and hopes for their future career. Further, I investigate taboos that young people might have in their formative years (you might already have spotted some statements in the questionnaire dealing with this aspect).
I am married and have two children. Laura, who is studying physics in England and Rafael, who is having a hard time this summer to decide what and where he should study.
I want to thank everyone from the camp for participating in the study and for filling in all forms. I am positive you will agree that peace requires not only creative thinking, but must also be grounded on hand of numbers and figures. Yet, deep in my heart I agree with one poem from Novalis, the great German poet:

Wenn nicht mehr Zahlen und Figuren
sind Schlüssel aller Kreaturen
wenn die, so singen oder küssen,
mehr als die Tiefgelehrten wissen,
wenn sich die Welt ins freie Leben
und in die Welt wird zurückbegeben,
wenn dann sich wieder Licht und Schatten
zu echter Klarheit werden gatten
und man in Märchen und Gedichten
erkennt die wahren Weltgeschichten,
dann fliegt von einem geheimen Wort
das ganze verkehrte Wesen fort.

All the best
Ulli
... link (0 Kommentare) ... comment
Friday, 30. June 2006
Israeli and Palestinian participants meet
before Peacecamp 2006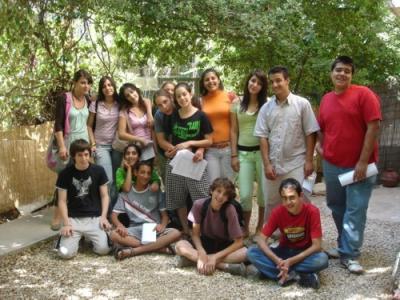 (Israel, 2006)
... link (0 Kommentare) ... comment
Meet the
PALESTINIAN COORDINATOR
NEZAR TANNOUS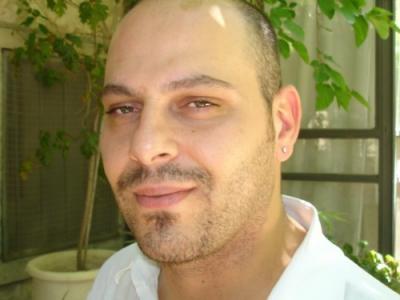 My name is Nezar Tannous, Im 30 years old, I was born in north of Israel in small town called Acre. I moved to Jerusalem 8 years ago and went to the Hebrew University and studded Economics and low. I have been involved in restaurant business for the last 6 years. I owned my own restaurant for 4 years and was one of the best in Jerusalem . I have been in part of a group of people in a project called MVP ( moderate voice for peace) in which we spent a month in the USA learning about conflict resolution .
I have been active since high school in all kind of programs dealing with the conflict in Israel and I have spoken in front of many people in a lot of different places in Israel trying to explain my point of view of solving the conflict in our area.
I have been a part of the Jerusalem Rotary club for about a year and Im the treasurer of the club and part of its board members.
I have been married for more than 2 years and I have an amazing daughter ( 15 month old).
... link (0 Kommentare) ... comment
Monday, 12. June 2006
Meet the ENTIRE PALESTINIAN GROUP:
Bilal Disi, Jameeel Abueid, Farid Srouji, Einas Zaher, Inas Halabi, Maria Ninos, Desirée Barbara, Jana Boulus
1. Bilal Dissi

Dear Sir,
I am sending you this e-mail with regards to our phone call yesterday about the camp.
The following is a brief describtion about me.
My name is Bilal Dissi.I am 16 years old.I am in the 11th grade at ST.GEORGES SCHOOL.I live in Jerusalem.
I have a lot of hobbies some of them are playing football,basketball,swimming,listening to music,reading poems,and chatting.
Since my childhood I was encourged by my parents and family to join different actvties besides studying.I used to take swimming lessons as I was a child.In addition to this I used to join local summer camps annually. Eventually I became a volunteer leader at the YMCA in East Jerusalem for young groups at summer camps there. But last year was one step ahead in my voulnteer activities as I joined the Seeds Of Peace camp in the United States as a member in the Palestnian Delegation of the second session of summer. Then as I came back I continued joining the meetings and particpating in the different activities and volunteer coordination with the Seeds Of Peace and Al Amal Institute for supporting pepole with cancer especially kids and children.
This experience empowered me,raised my awareness in different topics politcal,social,and economical. It enhanced my self esteem and I bacame more self independent.
Hence,as I knew from my friend about your program I decided to apply for joining your team to gain more experience,meet new people and friends as well as get to know other cultures so as to share experience and knowledge.
I appreciate you for accepting me as a member and hope that I would be up to your expectations.
May you please send me your web-site so as to get more details about your orgnizations and actvties.
Feel free to contact me for any further details.
Sincerley,
Bilal Dissi.
Tel: 02-6262521
Mobile: 0546267188
e-mails: bablo89@hotmail.com
vigroleo89@hotmail.com
dr_cool_is_free2rhyme@yahoo.com
2. JAMEEEL ABUEID
MY NAME IS JAMEEEL ABUEID.
>
>Iam 14 years old next mounth i will do 15 years .
>
>MY BIRTH DAT :30/6/1991
>
>I live in Jerusalem/Bit- hanina
>
>My hobirs is playing football , handball &COLECTING OLD COINES +OID
>POTERY
>
>
>JAMEEL ABU EID
3. Farid Srouji
Hi !
My name is Farid Srouji. I'm 16 years old a tenth grade student in Sister Of Nazareth school-Haifa. i was born in Haifa, a magnificent city in Israel.
I have two sister smaller than me, the first called Reem and the second Nour. my father is an electrical engineer and my mother is an accountant.
I have a lot of hobbies that can't end, so summarily : i love to swim and paint, playing good chess, I'm also a very good gamer (person who are professional in video games...), making sport, and love travelling around the world.
Sincerely,
Farid Srouji
details you ask for:
my name as it written in the passport : Farid Srouji
date of birth : 24/9/1990.
address : Stella Maris street 41/1, Haifa.
i have a medical insurance in Kupat Holim Leumit.
The two friends i have told you about are:
Ihab Mazzawe.
tel: 04-8332681
Maroun Sassien
tel: 04-8312893.
4. Einas Zaher

Hi , well you already know a little bit about me so i'm not going to write a lot :) anyway my name is written in the passport like this "EINAS" but the right way to spell it is either "INASS" or "ENAS". i was born on january 2nd 1990. I have an Israeli passport and i live in haifa on Ahaz st. 8. as for my medical insurance i have a regular one. I guess that's all hope to see you on saturday
peace
Enas Zaher
P.S. if the picture I attached isnt good tell me I'll change it.
5. Inas Halabi

My name's Inas, I'm a 17 year old Palestinian living in Shufat, next to French Hill and at the moment I am enjoying life and relaxing and partying since Im finally done with exams. I cant say much about me in one paragraph but I'll try. Aright here it goes, what I mainly love doing is art, especially ceramics. I think that's what Im going to be doing for a while, at university. Other than art, I love meeting new people and having a good time. I love people with rich cultures. I speak three languages, English, Arabic, and Hebrew, and this and that in French and 5 or 6 words in Russian. I went to an American school for 13 years then transferred to the Anglican School in town and I'm graduating in 8 days. Other than that, Im really excited about Austria and hope to meet everyone and come back with an amazing experience.
Inas Halabi
P.O. Box 51596
Jerusalem, Israel
6. MARIA NINOS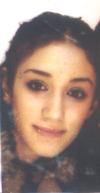 Maria NinosSelf Description:
Born Nov 3, 1988- Jerusalem.
School- Lycee Francais Jerusalem till Brevet then Anglican school Jerusalem till International Baccalaureate certificates.
I love the arts- and I am not sure of what my future will bring in terms of career and interests but i am open. My work with The Peres Peace Center and noe this summer peace camp makes me think that i might have some talents in peace activity, but time will tell. I love spending time with my firends and swimming and travelling.
7. Desirée Barbara

My name's Desiree ( u can call me Deedee):P, i'm 17 years old, and i'm at the 11th grade.
i live in akko, and i was born at the 28th of november 1989.
i study at the Orthodox Arab Colleg in Haifa, which is 30 km south to akko. I major in the Biotechnology section, which includes- biology, chemistry and biotechnology.
Both haifa and akko are mixed townes where israeli arab and jews live next to each other peacfully . We speak four lanuguaes: Arabic which is my mother tongue and hebrew which is the country's language, English and spanish.
i look for beeing a plastic surgeon, since I'm fascinated to make people look better and feel better.
I play the piano and I enjoy listening to music mostly "sultan altarab" george wassouf.
I like all kinds of sports, and i'm enrolled in the panarama gym "fitness and health" in Haifa, since now we also own a flat in Haifa.
I also like photography, traviling. reading books, watching reality shows, Viva chaneel, music, football- I cheer the champions Italian team .
I have two bigger brothers. the elder is about 26 years old and has a graduating from the medical school in England and got his liscence to practise medicine in Israel.
My second brother is 20 years old and is studing in the technion, the medical engineering department.
My father is an eye sergeon,and is the medical manager in the hadassa optimal center where he aperates his client the laser operationsand to ged rid of there glasses.
My mother is a lecturer in the Arab Teacher's College in Haifa where she teaches education, psychology and teaching methods.
peace,
Desiree Borbara.
8. Jana Boulus

about me:
my name is jana boulus, i am almost 18, i am an arab israeli. i went to the jerusalem school from kindergraten till 10th grade, and then i moved to
the anglican international school of jerusalem so i can take the IB, and will be graduating in a week. i took the full IB diploma and majored in english, history, and art. i am palestinian, have an israeli passport, live after the checkpoint, and go to school in the israeli side. i have friends from all over the world, and i enjoy meeting new people.
my hobbies are dancing, PHOTOGRAPHY, all forms of art, reading, and soccer =)
i am a photographer, and it is the only thing i think i am truly good at.
that and arguing =)
i was in the peres center for peace a couple of years ago, and i absolutely loved it. i got to go on tv with an israeli friend and talk about the political situation. i am very passionate about politics and human rights and love to have discussions about the israeli-arab conflict.
i have participated in MUN (model united nations) four times (different countries, all human rights), and have enjoyed every second of it as well.
my dad is a lawyer, my mom is a retired teacher, and i have a younger sister who's still in school, and an older brother whos currently studying second year medicine in technion university.
i am originally from up north (kofer-yaseef), but i live, and i have lived in jerusalem all my life.
i am planning to study hebrew next year, and then the year after that hopefully to study law.
i enjoy traveling, arguing, taking photos, playing and watching soccer (go brasil!), going out with friends, reading, history, dancing, and my computer.
... link (0 Kommentare) ... comment